Interactive Brokers – Top Online Broker for nine consecutive years, as awarded by Barron's, the tech-first approach of Interactive Brokers and its global reach made it an obvious choice when Investor Signals expanded our brokerage offering into the US markets.
Australian Model Portfolios
ASX Top 20
ASX Top 50
ASX Top 100 (Only available inside the Investor Signals Global Investment Fund)
iShares Global ETF
High Conviction
US Model Portfolios
Dow 30
US100 (Only available inside the Investor Signals Global Investment Fund)
High Conviction
​All accounts include access to one or more of the available models as well as an "independent" portfolio where we can work in partnership with you to execute buy/sell orders on your behalf across 125 markets in 31 countries. Stocks, options, futures, FX, and bonds are available from a single integrated account.
​Our Fee Structure – No Markup on Brokerage
Our trading fees contain two components:
Execution Fee
Execution fees are variable, depending on the exchange and region.
For Australian Stocks
0.08% of trade value, with a minimum of AUD $6 per order.
| Trade Value | Fee |
| --- | --- |
| $10,000 | $8 |
| $20,000 | $16 |
| $50,000 | $40 |
Example Fees for Australian Stocks in AUD
For US Stocks
USD $0.005 per share, with a minimum of USD $1 and a maximum of 1% of trade value.
| Example | Fee |
| --- | --- |
| 100 Shares @ USD 25 Share Price | $1 |
| 1,000 Shares @ USD 25 Share Price | $5 |
| 1,000 Shares @ USD 0.25 Share Price | $2.50 |
Example Fees for US Stocks in USD
Performance Fee
All client accounts are subject to a performance fee which includes two components.
1.95% Annualised Percentage of Net Liquidation Value applied on a daily basis.
20% Percentage of Quarterly P&L applied as of 31/3, 30/6, 30/9 and 31/12

​Applied when performance exceeds the benchmark of the S&P/ASX 200, with a high watermark and one look back period.
Performance
The below tables illustrate the performance of all algo buy/sell signals over the past 10 years, updated as of 31 January 2021.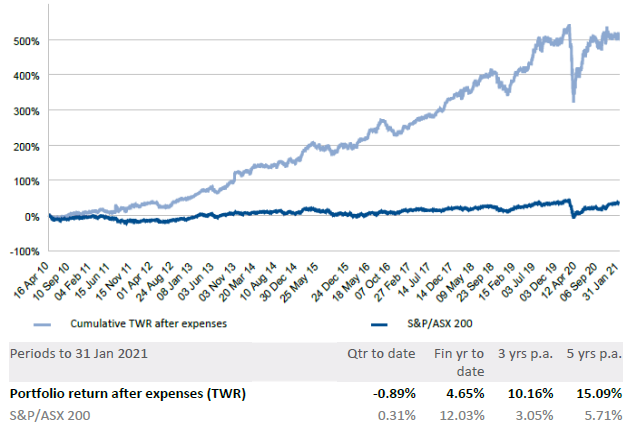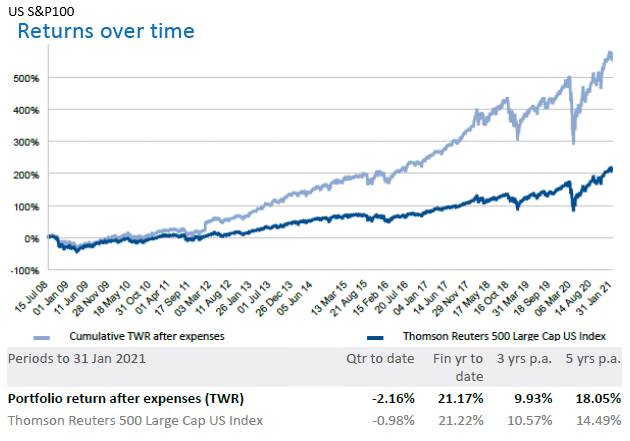 Disclaimer: This table illustrates the simulated historical time weighted rate of return, (TWRR), of applying our algorithm based investment model over the ASX100 & US S&P100 listed securities. Past performance is no guarantee of future returns.
Open an Account
Open an account today. Contact us if you'd like to transfer an existing Interactive Brokers Account.