US stocks ended lower on the day after a sharp, mid-session reversal was triggered by comments from the US Federal Reserve.
It was reported that during the last FED meeting, when rates were lifted by 25 basis points, some voting members viewed US equity prices as "quite high relative to standard valuation measures" and that the central bank should take steps to begin trimming its $4.5 Trillion balance sheet.
The DOW 30 posted its largest intra-day downside reversal in 14 months. After an early gain of almost 200 points, the DOW closed down 41 points and near the session low.
Volume was very heavy at 7.5 billion shares compared to the average volume of 6.5 Billion shares over the last month.
It's worth noting that the process of reducing the balance sheet acts as an accelerator to tightening monetary conditions and is generally not bullish in an over valued market.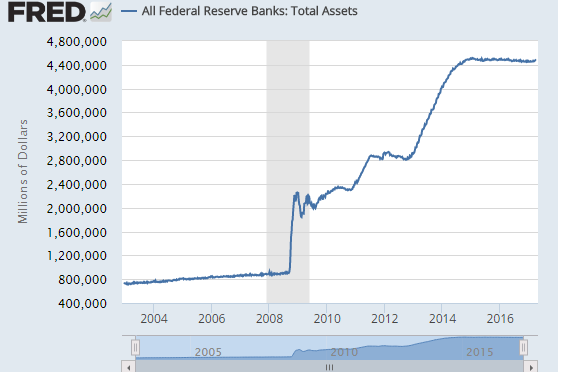 FED Balance Sheet