To help our members better understand the principles of a "trade set up" the following educational post and video has been prepared.
PP is the pivot point and SMA is the simple moving average. GICS is the ASX industry classification. These are all headings in the "Trade Table" window.
For short-term traders, the timing tool for entering a "buy" can be supported by overlaying a 3 system check.
1. Main Algo Engine signal, (green box).
2. PP secondary signal, (green up arrow).
3. SMA momentum check to ensure the price is above the 10-day simple moving average, (red smoothing line over price graph).
As numbered below.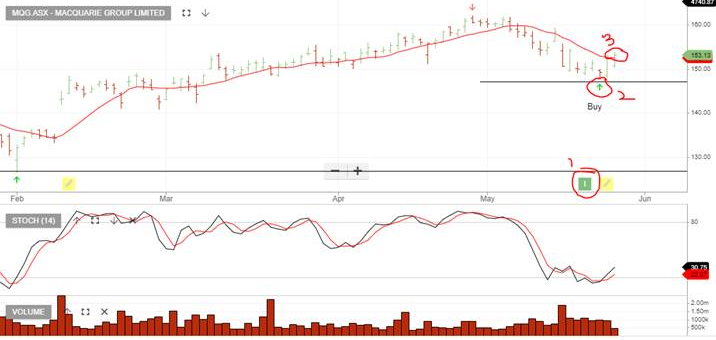 An alternative to waiting for the price to be above the 10-day moving average can be to use the stochastic and look for the black line to be turning up through the red line. This is referred to in my market commentary as the "short-term momentum indicators".
Traders will recognise that the stochastic reacts much faster and therefore, can provide an entry confirmation closer to the recent low price, whereas, waiting for a cross above the 10-day average is a slightly slower but very effective way of not jumping the gun and ensuring the buying momentum has at least started to move in your favour.
The following video may help clarify things further and if you're still unsure, please call our office on 1300 614 002.