Since posting an intra-day low of $55.80 on December 6th, the price of West Texas Intermediate (WTI) crude oil has rallied almost 20% to hit a 3-year high of $66.60 in NY trade last night.
The sharp rise in WTI has had 2 primary tailwinds: a seasonal drawdown of crude oil in storage and a 4% drop in the USD Index.
However, this week's events could diminish, or possibly reverse, those 2 market impulses.
According to the American Petroleum Institute (API), the amount of WTI in storage has dropped for 11 consecutive weeks. This week's drawdown was 1.1 million barrels compared to an expected reduction of 2.3 million barrels.
In addition, the recent rise in WTI has seen the US rig count rise from 789 in early December to 939 this week. More production from rigs online will likely break the string of weekly drawdowns in the near-term.
With respect to the USD, Mr Trump told CNBC yesterday that the Greenback will strengthen over time and that recent remarks made by Treasury Secretary Steve Mnuchin about a weakening USD were misunderstood.
Our ALGO engine currently has a sell signal in OSH from the $7.60 area. A material correction in the WTI price could see the stock trade back to November support level near $7.00.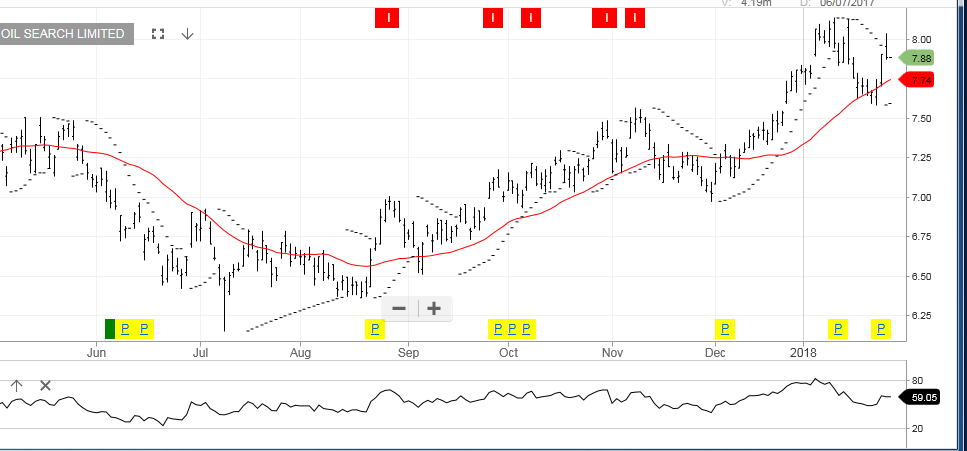 Oil Search